THE BRAND
The Antipodes Water company was founded on the strength of one very simple idea: "to produce the world's best water,
from the world's purest country."
antipodes / an-tip-o-deez / n.pl. 1 Australia and New Zealand from the perspective of Europe; 2 a pair of
points, places or things that are diametrically opposite to each other.
Antipodes water is a New Zealand water this is truly different. It is different in quality, different in the way it looks,
different in it's impact on the environment and the way it is distributed – available only at high.end restaurants, hotels
and fine food outlets. Antipodes is the first water in the world to be carbon neutral, to the restaurant table anywhere
in the world – a pure water, untouched from the source of water hundreds of meters below the surface.
THE SOURCE
is located in the Bay of Plenty, a very remote area of New Zealand. The population is one person per square km. In comparison: Manila there are 43,000 inhabitants per square km.
the aquifer is 327 meters deep
the water takes 50 to 300 years to permeate throught the rock into the aquifer, which is like a vast underground river
NOT ALL WATER IS CREATED EQUAL.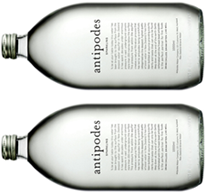 All bottled waters – still or sparkling can be categorized as either processed or natural.Processed waters require methods of sterilization, disinfection and sanitazation to achieve their goal of beingable to claim they're a "clean" water. To achieve this many processed waters are then also subjectedto a cocktail of salts & minerals in order for them to be classified as mineral water. By contrast, Natural water is untouched – it is a living water retaining its original fingerprint resulting from its natural minerality and its source terroir.
THE WATER
has naturally low minerals with a TDS of 130mg/l, but rich in silica
It's orientation is neutral with a pH of 7 and has been this way for hundreds of years
is not tampered with and bottled directly from the source and delivered as natural living water
The source is recognized as the deepest highest quality groundwater in New Zealand (BOPRC 1998)
AWARDS
The Berkeley Springs water awards in the US are the Olympics of Water
Since winning Gold in 2006, Antipodes has been the most awarded in the competition. Consistently winning year after year.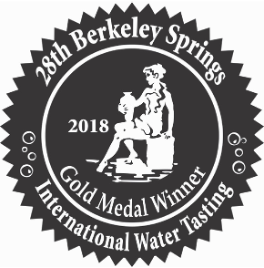 Once again, Antipodes has been crowned the champion sparkling water at the 28th Berkeley Springs International Water Tasting Awards in 2018, and received the GOLD Medal.

Antipodes was also awarded in the best packaging category.
DELIVERED TO YOUR DOOR.
Antipodes water – still and sprakling – is exclusively distributed by Brumms Quality Wines, Inc.
For orders, kindly call 8723 -7139. Free delivery within Manila.